Making HealthCare Personal Again
Direct, convenient access to your healthcare provider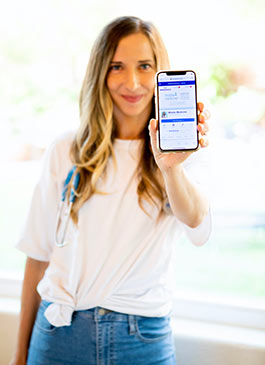 Dr. Jori Christensen
DNP, FNP-C
The Un-clinic Approach
No waiting, just the Doc and you
Nobody wants to go to the doctor's office. Mobile Medicine is making healthcare happen in the comfort of your home by providing healthcare via text, phone, or an app. No more long waits in a crowded waiting room, no more having to pull your kid out of school, or leaving work.
Get more done by simply being able to text your doctor, anytime, anywhere.
Dictionary
mo·bile med·i·cine
/ˈmōˌbīl/ ˈmedəsən/
noun
1. Mobile medicine is just that: Medicine that is mobile! Contact via your phone, computer, app, but don't leave your home if you don't actually need to! Thats Mobile Medicine! ;)
87+ 5-Star Reviews

5,000+ Clients

Convenient
It's not JUST Medicine, it's better Healthcare
Hi! I'm Dr. Jori (DNP) serving all of Utah with Telehealth diagnosis and treatment in family medicine. Family life is busy, and I believe healthcare doesn't have to be stressful or time-consuming. You shouldn't have to stop life and wait 2-7 hours in an office to ask a question about yours or your family's health. That's why I started Mobile Medicine and it has grown from word of mouth to become a premier concierge healthcare service in Utah.
I offer text or FB messaging from 8 AM to 10 PM. Get treated without going anywhere and enjoy getting back to life faster than ever. Mobile medicine provides healthcare the way it was meant to be: personal, consistent, and convenient.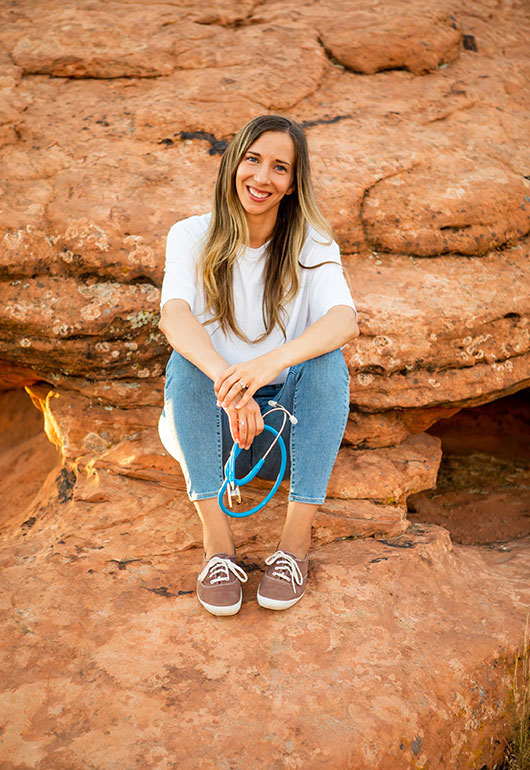 How This Works
Call, Text, or Facebook

Determine Your Needs

For Prescriptions

History + Symptoms

Via Telehealth

In-person Visit
Reviews
Darcy Spafford

Dr. Jori is not only an extraordinary person, but an awesome doctor! Not sure what I would do without her! Between the rashes, ear infection, sore throat, allergies, and coughs Dr. Jori always has us covered!!! Being able to send her a picture or do a quick house call is priceless! I love not having to drag my 8 kids to the doctors every time someone is sick!!!! If you haven't used Dr Jori you are missing out!!

Amanda Griffith

Mobile Medicine has been an amazing option for our family! We rarely if ever need to visit the doctor for anything, but having Jori a text away to get things taken care of has been a huge time and money saver in addition to the convenience! I wish this had been an option years ago when my big kids were little! Totally awesome!!

Scott Day

She has been an amazing help to my kids and I. I am always busy with work or my kids. Not always easy to take my 3 kids to the doctor, plus the fees the clinics charge now! 150% recommend her!

Jolene Stewart

Super quick and easy. All I did was send her a text and she got right back to me. I had what I needed taken care of within a matter of minutes. No need for instacare or the ER ( or the bill).

Denise Crosier

Jori is the best to work with! I love that we can call or message her without needing to wait for an appointment time at the doctors office. Fast, friendly, and courteous! Low fees especially for those of us without health insurance.

Kristi Gardner

Jori was a lifesaver when I developed mastitis on a late Thursday night. By the time I decided I needed to go to the doctor it was Friday afternoon and I would've ended up at Instacare with my 5 kids. Instead I texted Jori and never left my bed. She got me a prescription within the hour and I started feeling better immediately. She saved me so much time, money, and stress!!!

Jenny Cain

Mobile Medicine is such a great idea, and Jori is awesome! I sent her a text with a description and a picture (lucky her :D) of a burn on my arm that I thought may have gotten infected, she diagnosed me over the phone and called some prescriptions in within the hour, she even followed up with me a couple of days later to see how it was doing. Saved me time and money, and my burn is feeling much better!

Shelly Kinservik

I love this gal! She is super efficient and quick. She has saved me on several occasions. Just send her a message let her know what's going on and if it falls under her guide lines she'll call you in a prescription. It cost a small fee so much cheaper than my doctor.

Laura Callahan

I wish Jori had like a yearly subscription or something… I feel like I call her all the time, and she is seriously the best! She's helped me through mastitis, strep throat, and severe morning sickness. She's also helped several of my children with ear infections. She is a lifesaver for our family!!! I don't know if that is something you've thought about but If Jori had a yearly subscription I would be absolutely interested if she ever wanted to do something like that!

Sara Brown

This is an incredible service that has helped me be a better mom! No more skipping checkups because of the long wait at the doctor's office! So grateful to have this great doctor sitting in my living room doing my kids checkups

Shelly Harris

Jori is a life saver! I have been sick for several days and I was too busy to see a doctor. I woke up this morning and didn't think I could go another day! Because it's Labor Day, I panicked for a minute because doctors offices aren't open and I didn't want to go to Instacare! Then I remembered about Mobile Medicine! I sent Jori a message and she replied within 3 minutes! Thank you! Thank you!! Jori is amazing! I will contact her from now on when I need a doctor!!

Brooke Salcido

I used Mobile Medicine for the first time this weekend and I so shocked how easy it was!!! Wayyyy better than dragging my three kiddos with me to the doctor!! and way more affordable as well!! She answered me back right away and I was able to pick up a prescription for my whole family within the hour. Would recommend her to everyone and will definitely be using her again!!!!!!

Kasey K. Campbell

This service is GREAT!. Jori, is super friendly, and VERY helpful.. In today's crazy busy world, who has time to sit in a waiting room, for hours?. Today, I was able to take a quick lunch break, and basically have a doctors appointment, at the SAME time. (via text with Jori). I've used Jori, several times now. She's very knowledgeable, and helpful. I'm VERY happy with this service.

Coleen Hardy

Seriously the best ever. My baby came down with pink eye while on vacation out of town. Messaged mobile medicine, sent a few pics, was able to get eye drops script sent to our local pharmacy. Picked up on the way home. So nice to be able to help my baby get better fast!

Christina Palmer

5 stars isn't enough!! Great service, friendly and fast. My son was sick and I sent her a text with his symptoms. She responded within one minute! I'm all about convenience and I will definitely use again, and again, and again…. who needs sickly waiting rooms when you can stay in the comfort of your own home!
Mother of four re-invents healtchare, making it less stressful, less time consuming, and more personal.